Site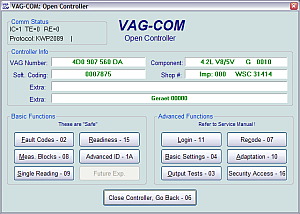 VAGCOM is essentially a diagnostics and programming tool for a variety of VAG car engines, that allows you to modify the cars settings behaviour. It consists of two parts:
Software Program (called VCDS)
This is loaded up onto your laptop and allows you to select various settings and read diagnostics information.
The cable connects to your laptop via USB (or serial port for older versions) and the Diagnostics port (located under the dash, in the drivers footwell) of the car. The cable contains a special dongle that acts as a copyright prevention device as well.
---
The manufacture of the system is a company called ROSSTECH and you can buy both directly from them ( http://www.ross-tech.com/ )
The software works on the basis that hexadecimal codes are changed to affect different behaviours of the cars ECU systems, however ROSSTECH decrypt these codes and put a menu interface in front so that you can simply select an option and the software selects and modifies the corresponding codes. This means that if you have an earlier software release that doesnt have what you want to change listed, you can still do it if you know what codes to select and change (as well as what to change them to).
Other places to purchase
You can buy second hand and possibly less legitimate versions on ebay but do so at your own risk. Make sure that you choose the HEX-USB+CAN version. For cars with a white MFD things changed a fair bit in terms of various codes so you really want the latest software (version 10.6).