Discussion Starter
·
#1
·
Okay, 90 minutes and its done....
Pretty straight forward, only issue was step 3. depressed the spring clip with pliers no problem, but when off the MAF it expanded too much, had to get a mate to bring round a set of huuuge pliers to get it back on. Also step 2 in reverse. when finally putting the carbon fibre inlet back on we dropped one of the screws we had retained into the engine bay. Spent 10 minutes looking for it with a torch but coldnt find it
Luckily we had a similar screw available!!
1. unclip the lid that leads to the forward scoop of the OEM airbox.
easy just a few clips
2. using a socket set remove the 2 screws that hold the forward airbox in place. Save these screws as they are used later, then remove the inlet scoop. All straight forward so far!
yep no problems!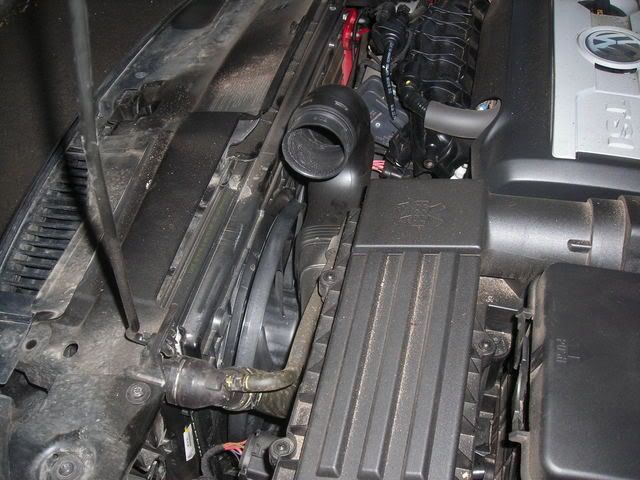 3. Disconnect the leads to the MAF sensor, next using pliers, compress the spring clip that connects the Mass Airflow (MAF) sensor to the OEM inlet hose and slide it back a few inches.
a few seconds does this, its getting the spring clip back on is a blooming nightmare!!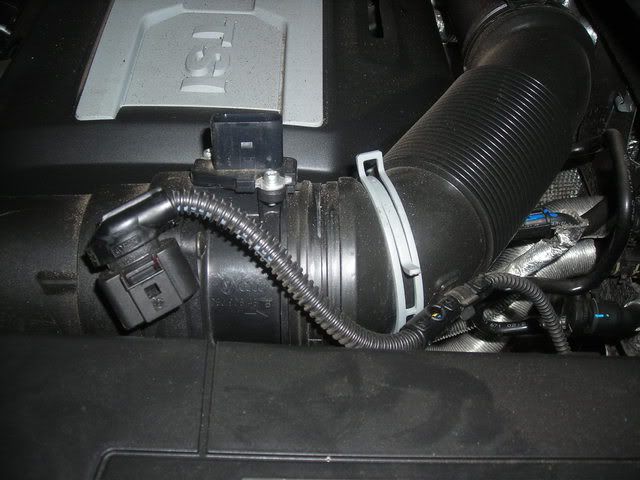 4. Remove the single screw that fixes the airbox to the battery tray
5. Lift the entire airbox out of the car. (the drain hose that comes out with it is no longer required)
and out it comes!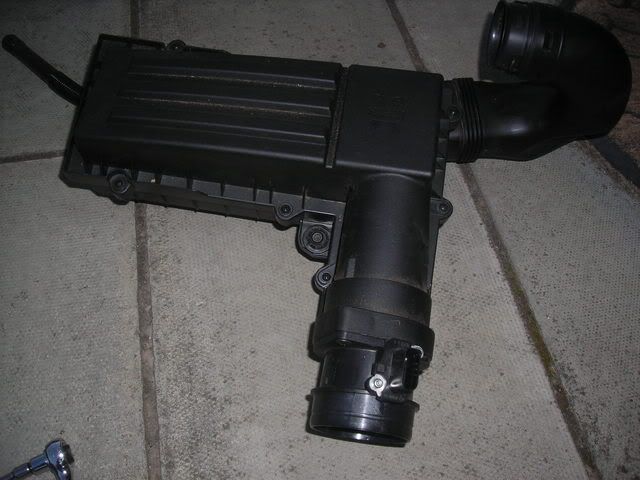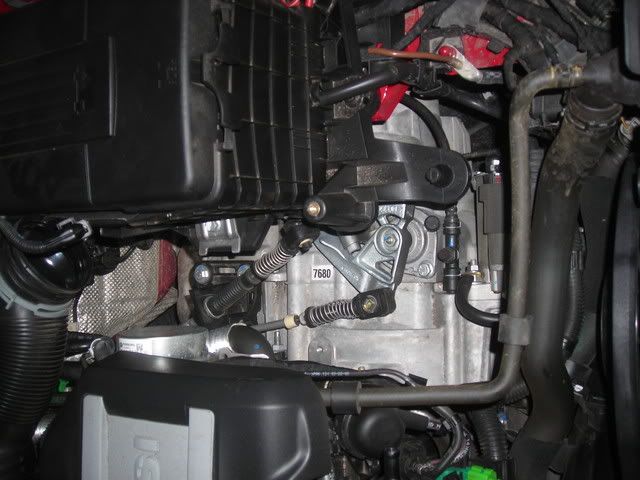 6. Using a Phillips screwdriver remove the MAF from the old airbox (be carful not to damage it!)
7. Slide the silicon adapter over the MAF, then reinstall the MAF to the OEM inlet tube, reposition the spring clamp and reconnect the wire. Then slide the 2 hose clamps over the silicone adapter and leave them loose.
Sliding the silicon adapter over the MAF is a bollocks, there is a wee lip on the MAF and it took 5-10 minutes of wrestling with it to get it on, once that was done easy peasy!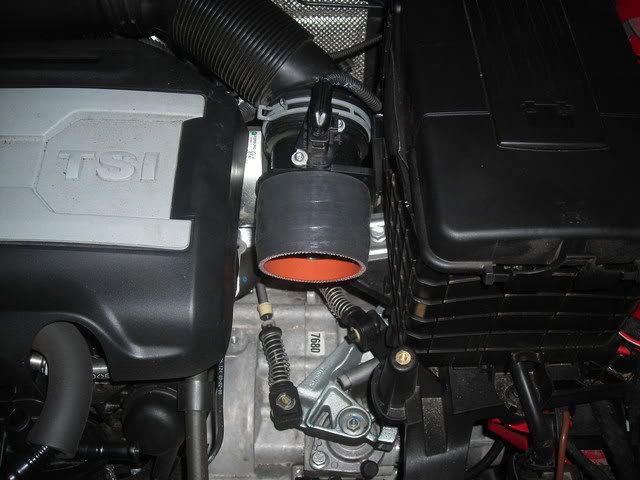 8. Attach the air filter to the inlet trumpet and tighten the band clamp.
couple of minutes did this!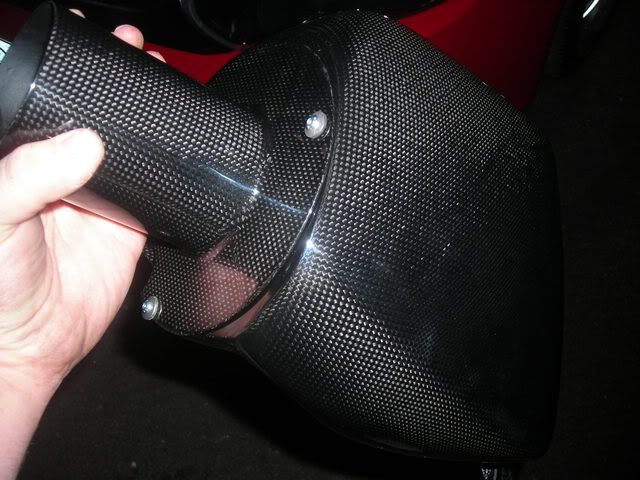 9. Connect the inlet trumpet to the carbon fibre airbox.
10. Connect the carbon fibre airbox to the original inlet position using the screws retained.
done!!!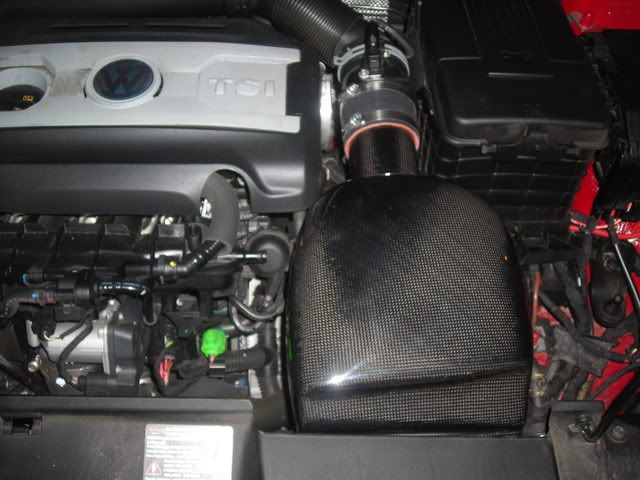 11. Tighten all hose clamps, then start your engine, leaving it to idle for 10 minutes to allow the ecu to re-calibrate the increased airflow (DO NOT ACCELERATE!) Finally check all connections, and then take it for a mad drive through the nearest tunnel!!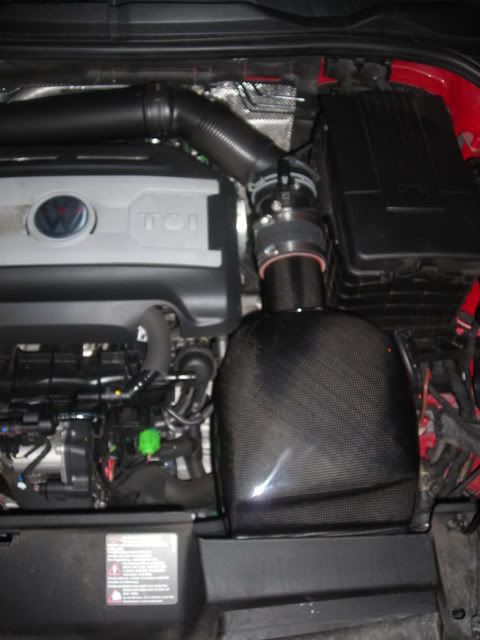 Once we had left it idling for 10 minutes we took it for a blast. Must say there is huge amount of extra power, a big difference is the throttle response. The car picks up so much quicker. Great!! Not much, if any extra noise which is good. All round a simple install, looks good and works!!