Discussion Starter
·
#1
·
The VW Scirocco from NFS video game was displayed in Essen late last year
(game clip)
http://undercover.needforspeed.com/medi ... eo&pageNum
EA Games' "Need for Speed" is probably one of the most popular car video games ever, and its current installment, Need for Speed Undercover features a bunch of extra cool cars. They have created a special version of the Volkswagen Scirocco. But what's really cool about this car is that there's also a real version, built by VW Individual, under the supervision of Vau-Max.de founder, Thomas Ebeling.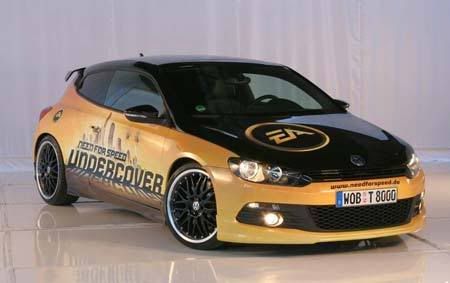 Starting from a 200 hp 2.0 TSI model, the team created a new body kit, with new front apron, rear bumper, side skirts, Folienbeklebung (side, below the character line, tailgate and rear bumper and rear lights and front bumper) disc tint from B-pillar, EA logo on the bonnet, fuel and left C-pillar. They've also made some mechanical upgrades, like new KW-Thread suspension Variant 1 kit, added 345mm front brake discs from the Golf R32, and also added new 19 inch wheels (shown in a previous thread).
The interior features leather all over the place, headrests EA logo laser etched on leather, aluminum steering wheel with "Need for Speed Undercover" logo and a new impressive entertainment system.
Check out more photos of this one of a kind Scirocco after the jump.
Photo Gallery: Need for Speed Undercover VW Scirocco